---
News
Python vs PHP Comparison
Feb 2, 2011
Category: General
Posted by: phpdirector
Dec 21, 2010
Category: General
Posted by: phpdirector
Please check the Forum on
12-21-2010  for 1.0 stable beta release
Dec 1, 2010
Category: General
Posted by: phpdirector
We are looking for testers for 1.0 stable. Please see the forums for more information & updates.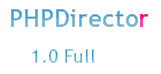 Home
PHPDirector is a content management system that allows users to create there own video sharing websites. Kinda like youtube, it allows webmasters to manage their site fully, giving them complete control over the content.
Users can submit media, manage there collections & contribute to your site while you have complete control over what happens. With the fully functional admin panel you choose the settings and how you want the site to work.
PHPDirector is 100% free and open source software. You may edit the script as you wish or rebrand it removing all ties to PHPDirector. You cannot sell it without permission.
Some Main Features Are:
Fully Functional Framework
Login / Register System
Categories
Stats
Fully Functional Administration Panel
Member Area
Multi Video Sources
Add your own Advertisements with our AdManager
Requirements:
PHP Version 4.3+
MySQL Version 4+
MD5 Hash Function Enabled (PHP) [This is for hashing passwords, optional]
PHPDirector doesn't require any special programs such as FFMPEG-PHP or Memcoder. It will run on almost any webserver with PHP & MySQL and virtually all free web hosts.